Injury Free Coalition Names Cincinnati Children's Hospital Medical Center Doctor PI of the Year
December 3, 2018 - Injury Free Coalition for Kids National Office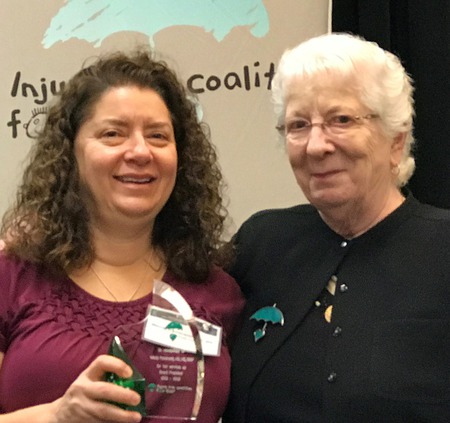 Ft. Lauderdale, Florida — Commitment, advocacy, research, mentoring and leadership in the field of injury prevention led the Injury Free Coalition for Kids to recognize Cincinnati Children's Hospital Medical Center Dr. Wendy Pomerantz as Principal Investigator of the Year. Dr. Pomerantz has a faculty appointment as a Professor of Clinical Pediatrics at the University of Cincinnati School of Medicine and Children's Hospital Medical Center in Cincinnati, Ohio. She has been a pediatric emergency medicine physician since 1998. Her interests include injury and poison prevention, concussions, injury epidemiology, program evaluation, education, and geographic information systems. She has published many peer reviewed articles including one demonstrating research that shows the reduction of pediatric injury rates can be sustained using a community-based approach.
I am very proud of the work we do at Cincinnati Children's. and I am honored and humbled to receive this award particularly with so many amazing Principal Investigators," Dr. Pomerantz said. "I have been a part of Injury Free for almost 20 years and I am always in awe of the work that people do to prevent injuries to children."
"It is an incredible organization proving every day that injuries to children can be prevented on a shoestring budget," Dr. Pomerantz explained. "This organization energizes me to want to do more to prevent injuries to children. The members use evidence-based methods to reduce injuries and more importantly they create evidence-based methods to reduce injuries."
The Coalition is made up of 42 hospital-based community-oriented sites located in 40 cities throughout the country's 10 US Federal Trauma Regions. It is from the Physicians who lead the injury prevention efforts in those sites that Dr. Pomerantz was selected. She served as the Board President of the Coalition from 2016 to 2018. Dr. Barbara Barlow, the founder and executive director of the Injury Free Coalition for Kids says this award was developed to honor Doctors like Dr. Pomerantz. She says It is for doctors who go beyond the call of duty and step outside of the hospital walls to do what is necessary to help make this a better place for children, and that is what Dr. Pomerantz does.
"Wendy is a leader every minute of every day amongst residents, hospital staff and the patients and families she provides care for," explained her Program Coordinator Dawn Gardner. She went on to say her work to reduce the rate of unintentional injury within the hospital walls, in the local communities, and on a national platform are never ending. She says it exceeds more than 20 years.
Dr. Pomerantz received her undergraduate degree from the University of Texas at Austin and her medical school degree from the University of Texas Southwestern Medical School in Dallas, Texas. She completed a Pediatrics Residency at Children's Medical Center of Dallas, a Pediatric Emergency Medicine Fellowship at Children's Hospital Medical Center in Cincinnati, and a Master's of Science in Epidemiology at the University of Cincinnati.
###
The Injury Free Coalition for Kids is the outreach arm of the Columbia University Medical Center for Injury Epidemiology and Prevention. It is among the country's most effective injury prevention programs. Injury Free is comprised of hospital-based, community-oriented injury prevention sites whose efforts are anchored in research, education, and advocacy. Located in all of the countries Federal Trauma Regions, there are 42 sites across 30 states and one international site in Ontario Canada. Each site is housed in the trauma center of its participating institution. They are all independent, physician-led programs driven by the Coalition's mission: preventing injury to children. While research determines where the injuries take place and which ones most prevalent and severe, most of the injuries addressed occur in urban environments, and Coalition members work to empower the diverse populations who live there.