Community Programs and Events
Program/Event Details:
Virtual Webinar: Motor vehicle crashes continue to be the leading cause of death and injury in adolescents. As new technology emerges, distraction has become an even more prevalent risk factor for crashes. Michael R. Flaherty, DO, attending physician with Pediatric Critical Care Medicine and director of the Injury Free Coalition for Kids at MGHfC presents evidenced-based strategies to keep teen drivers safe. He also shares emerging strategies for parents to help their new drivers.
Dates and Times:
11/18/2021 12:00 PM EST
Learn More:
For more information, visit: https://www.massgeneral.org/blum-center/events/2021-11-18-teen-drivers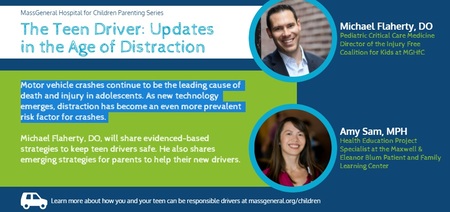 MGH Distracted Driving Awareness
Boston, Massachusetts (MassGeneral)