Community Programs and Events
Program/Event Details:
- Shared injury prevention messaging through Seattle Children's Facebook, Twitter, and Instagram.
- Spread awareness to Seattle Children's workforce about NIPD through internal newsletters and announcements.
- Shared messaging on SCENE screens throughout the hospital and clinics for patient families, visitors, and workforce.
- Engaged Seattle Children's Parenting Inclusion Network by sharing NIPD information and education on safe medicine storage and disposal and safe firearm storage. Members were entered to win a free safety device of their choosing if they submitted one action that they planned to do to help prevent child injury (7 members received a bathroom safety kit, kitchen safety kit, or a firearm lock box).
- Distributed 25 travel beds, 60 bathroom safety kits and 60 kitchen safety kits during a community car seat check event, a community vaccine clinic, and to Seattle Children's NICU, Prenatal Clinic, Guest Services, and Odessa Brown Children's Clinic for distribution to patient families in need of these safety devices.
Dates and Times:
October 23, 2021 (car seat check event), November 3, 2021 (Parenting Inclusion Network engagement), November 6, 2021 (mobile vaccine clinic), November 15-18 (devices to clinics).
Attachments
Contact Information
Contact Person: Isabell Sakamoto
Email: isabell.sakamoto@seattlechildrens.org
Phone: 2069876197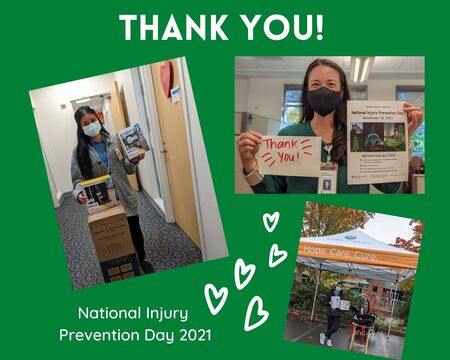 Thank you to donors
Seattle, Washington