Community Programs and Events
Program/Event Details:
The Johns Hopkins Children's Center Injury Prevention Program was in our Harriet Lane Specialty Clinics on Wednesday, November 17th from 1pm - 3pm and Thursday, November 18th from 10am - 12pm to distribute home safety products to our clinic patients. On Wednesday, we reached 28 people. On Thursday, we reached 20 people.
Products that were given out include: Toilet Locks - provided by donors from Injury Free; Tigger Locks - provided by donors from Injury Free; Bike Helmets; Cabinet & Drawer Latches; Pot Holders; Oven Mitts; Rubber Duck Temp Thermometer; Clearly Soft Corner Guards; All Purpose Strap; Essentials Childproofing Kits; Door Knob Covers; Stove Knob Covers; Window Blind Cord-Ups; JHCC Burn & Trauma Water Bottles & Travel Mugs
Dates and Times:
Wednesday November 17th from 1pm - 3pm Thursday November 18th from 10am - 12pm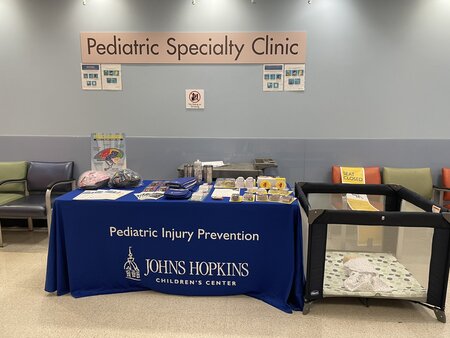 Clinic Distribution
Baltimore, Maryland