Purnima Unni, MPH, CHES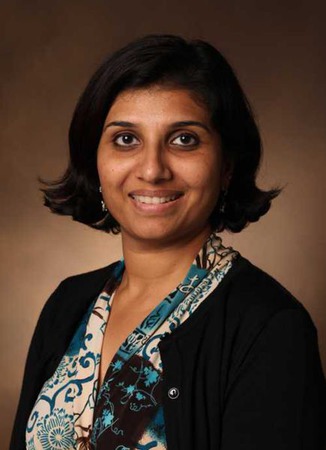 Pediatric Trauma Injury Prevention Program Manager, Injury Free Coalition for Kids of Nashville
Purnima Unni is the Pediatric Trauma Injury Prevention Manager at the Monroe Carell Jr. Children's Hospital at Vanderbilt, Nashville, Tennessee. She also serves as the main media spokesperson on pediatric injury prevention topics for Monroe Carell Jr. Children's Hospital at Vanderbilt. Ms. Unni has a Master of Public Health degree from Portland State University, Oregon, and undergraduate degrees in Education and Psychology from the University of Mumbai, India. She is also a Certified Health Education Specialist (CHES).
Ms. Unni is a strong advocate for injury prevention in her community and has been active in the field for more than 20 years. She was instrumental in securing the Injury Free Coalition for Kids site designation for her hospital. She has developed and implemented innovative programs in Nashville and its surrounding counties. The "Be in the Zone" teen motor vehicle safety program was a finalist in the Children's Hospital Association's 2012 Call for Resources. She has been a strong advocate for ATV Safety and is currently the co- chair of the Tennessee ATV Safety Coalition. Faced with the issue of limited resources, she has secured funding through gifts and grants from external agencies and leveraged resources available in Vanderbilt University through student projects and internships. Over the last 4 years she has raised more than $783,000 for injury prevention programs and has mentored 13 student interns.
She actively works to form partnerships with local agencies to tackle injury prevention issues. She is a member of several national and state committees. She has been selected to be on the expert panel for the Governor's Highway Safety Administration's new report on "Other influencers" pertaining to teen driver safety. At the state level, she has been appointed by the Tennessee Governor, Bill Haslam to serve as the safety expert on the newly created Tennessee OHV Advisory Committee. She is also on the advisory board for "The Safer Tennessee Project," a new gun violence prevention organization focused on reducing the number of gun-related injuries and deaths in Tennessee. She is a member of Committee on Pediatric Emergency Care (COPEC), Tennessee Committee on Trauma and the Tennessee Commissioner's Council on Injury Prevention and Control. She is also a member of the American Public Health Association and the Pediatric Trauma Society.
Ms. Unni has a strong interest in research and has published in the Journal of Trauma and Acute Care Surgery, American Journal of Emergency Medicine, and the Journal of Pediatric Surgery. She has also presented her work at numerous state and national conferences. She has served as an ad hoc reviewer for "Pediatrics" and several APHA conferences.
Contact Information
Email Address:
purnima.unni@vanderbilt.edu
Phone Number:
(615) 936-8222
Mailing Address:
Monroe Carell Jr. Children's Hospital at Vanderbilt
Department of Pediatric Surgery/Trauma
7100 DOT
2200 Children's Way,
Nashville, TN 37232-9780