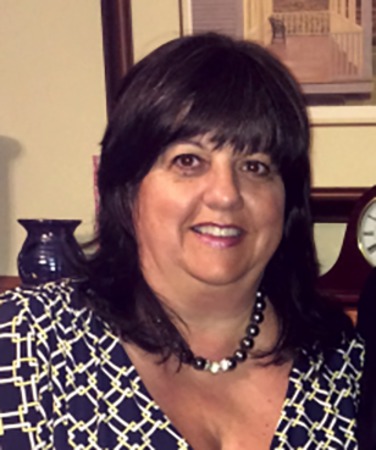 Pina Violano, PhD, MSPH, RN-BC, CCRN
Manager, Injury Prevention
Community Outreach & Research
Yale New Haven Hospital
New Haven, CT
Dr. Violano is the Manager of Injury Prevention, Community Outreach, and Research, for the Yale New Haven Hospital Level I Adult Trauma Center and the Yale-New Haven Children's Hospital. Level I Pediatric Trauma Center. She is described as an advocate for change, a bullhorn for the voiceless, a person driven to make a difference. It is young people who motivate her. Inspired by the injured children she once cared for in her role as a critical care registered nurse, Dr. Violano has extended her reach to develop injury prevention programming, research and strategies at local, state and national levels.
Her colleagues Assistant Professors of Pediatrics and Emergency Medicine Dr. James Dodington and Dr. Kirsten Bechtel say her strong leadership and intellect have created and sustained a wide range of successful injury prevention programs for New Haven and Connecticut as well as other places across the country. They point to her collaborative efforts with New Haven and Hamden Public Schools on several safety initiatives and their assistance with the implementation of the University of Miami's "Walk Safe" program to promote safe walking behaviors. She has assisted with the distribution and fitting of bike helmets, the distribution of home smoke detectors and fire safety plans, medication use, misuse and disposal. Dr. Violano is an enthusiastic Child Passenger Safety Seat Technician who has properly fitted and installed innumerable car seats. Her work with motor-vehicle safety for the pediatric population expanded the hospital's car seat safety program. The expansion goes further. She has crafted public health policy and legislation to prevent heat related deaths among children who are locked in motor vehicles, and she has worked to protect teen drivers and their passengers.
While she has focused on many areas of need, it is violence and firearm injury prevention that has demanded much of her attention. Dr. Violano is known for her collaboration with the Yale Clinical Scholars Program (previously the Robert Wood Johnson Foundation Clinical Scholars). She is a leader of community-based participatory research surrounding injury and violence prevention. The goal of this collaboration is to build community resilience as a means to prevent injury from gun violence in vulnerable New Haven neighborhoods. Her colleagues say she has not only demonstrated leadership and commitment through her role on the Community Resilience Steering Committee, she also serves the Community Resilience Survey Team. They say she provided invaluable expertise, critical funding, media connections, and countless hours to build a successful foundation to reduce gun violence within vulnerable neighborhoods in New Haven. The use of community resiliency is now becoming nationally recognized as a promising and novel means to reduce gun violence.
Her research focus has centered on the reduction of gun violence through gun buy-back programs, safe storage of guns, educating gun shop owners on risk factor for suicide and the mentally unstable. In addition she has adapted a disaster-preparedness approach to gun violence, more specifically, the relationship between perceived collective efficacy, its subscales of social cohesion and informal social control, and exposure to gun violence. She has collaborated with a street-based outreach worker program to reduce gun violence specifically among 13-24-year olds through education, advocacy, and mentoring interventions within the cities of New Haven, Hamden and West Haven, CT. This work has culminated in the creation of Yale New Haven Hospital's first hospital-based violence intervention program (HVIP). Along with her work in Gun Buyback programs and raising awareness around firearm safety, her partnership with the Connecticut Violence Intervention Program has been the cornerstone of her community injury prevention partnerships. In 2018 she was able to convince the leadership at YNHH to fund an HVIP and hired multiple staff members onto her team to support injury prevention work in the community.
After working with Dr. Violano for more than a decade, UMass Memorial Children's Medical Center Chief Pediatric Surgery and Trauma Director Doctor Michael Hirsh says she has contributed significantly to the development robust "Gun Buyback Programs" at her home institution and throughout the US. He says she has spent her career dedicated to injury and violence prevention. He could not think of anyone more dedicated to the act of "rolling up their sleeves" and getting involved in program development for gun buyback programs and getting multiple Injury Free sites in line for longstanding successful events and collaborative research. He says when it comes to her research she has been a tireless partner in evidence-based reviews for the Journal of Trauma and Acute Care Surgery and has been an author on landmark studies with David Hemenway on "Firearm Training." Her work on child passenger safety and injury prevention reviews has been widely quoted. He concluded by saying the country is going through a crisis in gun violence, and Dr. Violano has stood in the gap fighting this fight for years.
Dr. Violano has been active in the Injury Free Coalition for Kids for over 15 years. She served on the Board of Directors for Injury Free several years and is described as a great contributor to the organization's growth.
###
The Injury Free Coalition for Kids is located in the Columbia University Medical Center for Injury Epidemiology and Prevention. It is among the country's most effective injury prevention programs. Injury Free is comprised of hospital-based, community-oriented injury prevention sites whose efforts are anchored in research, education, and advocacy. Located in all of the countries Federal Trauma Regions, there are 39 sites across 30 states and one international site in Ontario Canada. Each site is housed in the trauma center of its participating institution. They are all independent, physician-led programs driven by the Coalition's mission: preventing injury to children. While research determines where the injuries take place and which ones most prevalent and severe, most of the injuries addressed occur in urban environments, and Coalition members work to empower the diverse populations who live there.

Estell Lenita Johnson
estelljohnson@sbcglobal.net