Introduction
Injuries are the leading cause of death and disability to U.S. children from 1 to 18 years old. Every day, 20 children die from preventable injuries, resulting in more deaths than all other diseases combined.
On Thursday, November 18, 2021, the Injury Free Coalition for Kids and the country's leading injury and violence prevention organizations will join forces for the 2nd annual "National Injury Prevention Day," a day designed to raise awareness about the burden of injury, violence and a need for change. Joining doctors, nurses, and community outreach personnel at more than 40 Level I Trauma Centers will be the 400 Coalitions of Safe Kids Worldwide, 70 Safe States Alliance Coalitions, the strength of the American Trauma Society, the American Academy of Pediatrics, Everytown for Gun Safety, The Society for Advancement of Violence and Injury Research, the power of The Trauma Centers of America Association and the force behind the Juvenile Products and Manufacturers Association.
Resources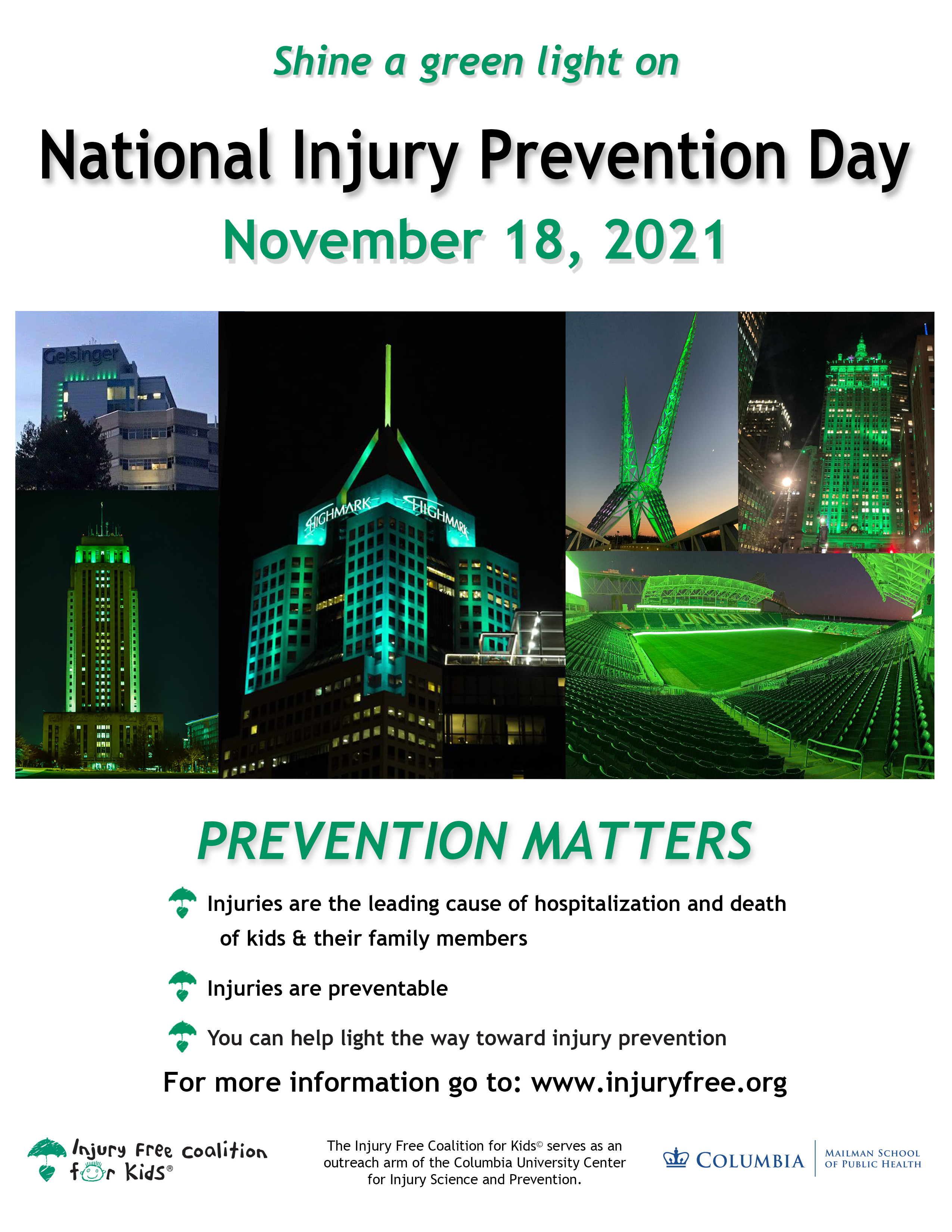 National Injury Prevention Day Partners

The Injury Free Coalition for Kids® is among the country's most effective injury prevention programs. It is comprised of over 40 sites located in Level I Trauma Centers of 30 states across the country in all the country's Federal Trauma Regions. These sites, including yours, have hospital-based, community-oriented injury prevention programs whose efforts are anchored in research, education, and advocacy. Each site has independent, physician-led programs driven by the Coalition's mission: preventing injury to children. While research determines where the injuries take place and which ones are most prevalent and severe, most of the injuries addressed occur in urban environments. Coalition members work to empower the diverse populations who live there, and they address the injuries most prevalent in their areas.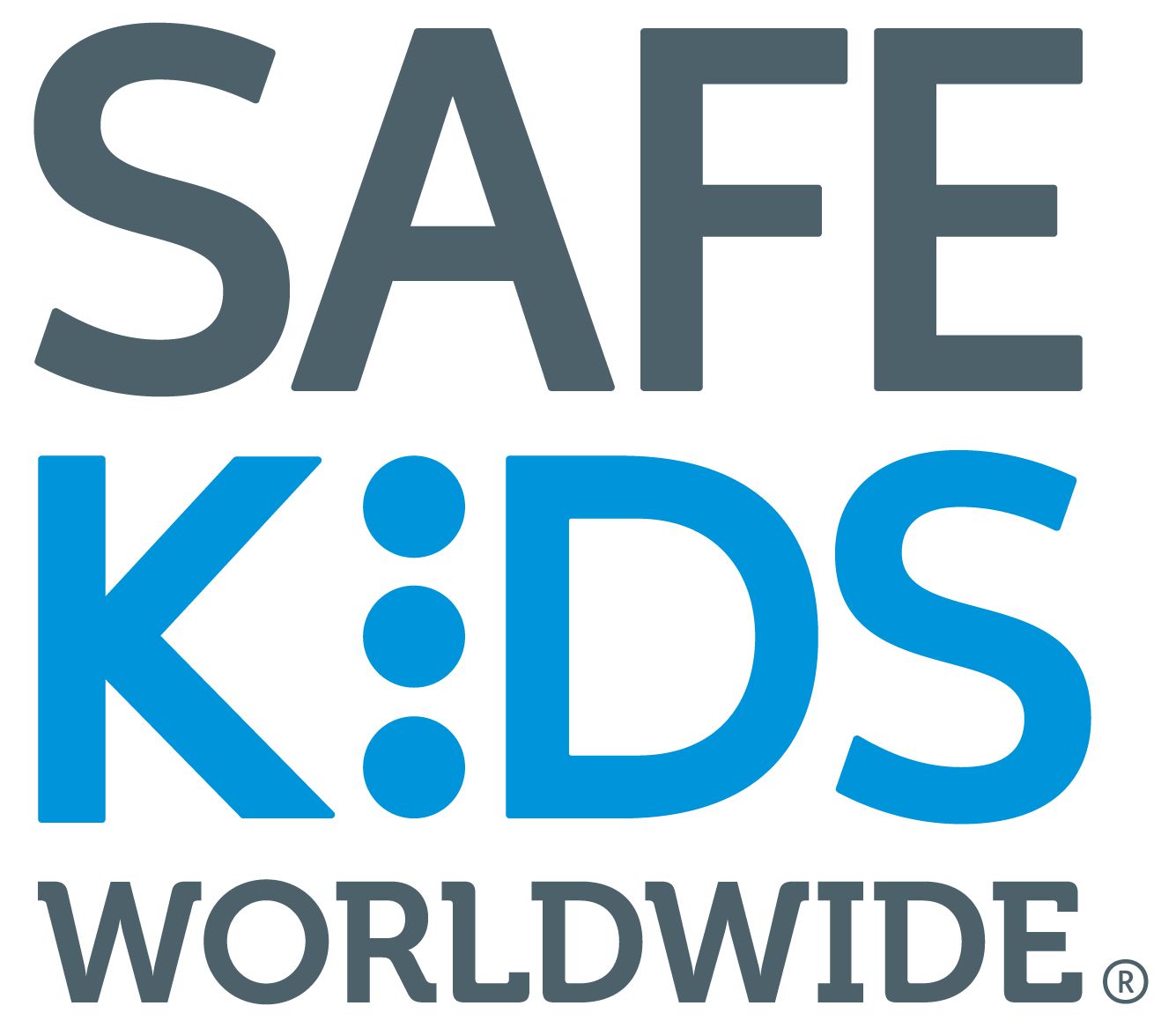 Safe Kids works with an extensive network of more than 400 coalitions in the United States and with partners in more than 30 countries to reduce traffic injuries, drownings, falls, burns, poisonings and more.
Since 1988, when Safe Kids was founded by Dr. Marty Eichelberger of the Children's National Hospital with support from founding sponsor, Johnson & Johnson, Safe Kids has helped reduce the U.S. childhood death rate from unintentional injury by 61 percent. Working together, we can do much more to protect kids.

Safe States Alliance is a national non-profit membership organization and professional association comprised of over 600 public health injury and violence prevention professionals representing all U.S. states and territories. Our mission is to strengthen the practice of injury and violence prevention. Our vision is to be the recognized leader and driving force in understanding and preventing injuries and violence. National Injury Prevention Day is an opportunity to increase awareness of injury and violence prevention, and joining with our other key partners collectively amplifies our voices.

The Society for Advancement of Violence and Injury Research (SAVIR) is a professional organization whose mission is to provide leadership and foster excellence in the science of violence and injury prevention and care. We promote educational and scholarly activities that strengthen the field and inform research, policy, and program development. We also collaborate with practitioners and policymakers to bridge research, practice and policy efforts in communities. SAVIR believes strongly in mentoring the next generation of researchers and practitioners and in growing diversity in the field and in our membership. Additionally, we advocate for improved resources for injury prevention and control research and related activities. We are excited to collaborate with other injury prevention organizations in support of National Injury Prevention Day. We hope to collectively raise awareness regarding the enormous impact that injury has on our communities, especially communities of color, and to emphasize the importance of robust research and evaluation in implementing effective prevention interventions.

The leading cause of death and disability in children 1-18 years old is injury. TCAA advocates for public education on injury prevention as a whole and sharing best practices to prevent unnecessary injuries and deaths.
The Trauma Center Association of America (TCAA) is a non-profit 501c6 trade association dedicated to securing the economic viability of trauma centers and systems across the country. The association represents over 400 Trauma Centers and Systems nationwide. The TCAA's mission is to secure the viability of America's Trauma Centers and foster a sustainable national system of trauma care. The Association's vision would result in access to optimal trauma care for all.
TCAA offers support in the areas of advocacy, operations and finance. Members receive education on best practices, advice on trauma finance and system development, finance consult visits, access to the most comprehensive trauma database and linkages to other trauma centers and systems.
Last Year's National Injury Prevention Day
View our slideshow of places "Shining a Green Light" during the first National Injury Prevention Day.
Thanks to everyone who helped make this day a success.
Contact
E. Lenita Johnson, Communications Director
Injury Free Coalition for Kids
estelljohnson@sbcglobal.net
816-651-7777