Programs
---
Minnesota Champion of Child Safety Award-2012
On September 20, 2012, Julie Philbrook, IFCK of Minneapolis Program Coordinator, was awarded the Minnesota Champion of Child Safety- 2012 award during the 4th Annual Minnesota Child Safety Summit in St. Paul, MN. The award recognizes significant contributions by a person or program in advancing the prevention of unintentional childhood injury in Minnesota.
The award acknowledges Philbrook's 20 + years of dedication and commitment to helping protect children ages 14 and younger from unintentional injuries. She has accomplished this by providing leadership and mentorship to others in the field and successfully building partnerships within the injury prevention community statewide.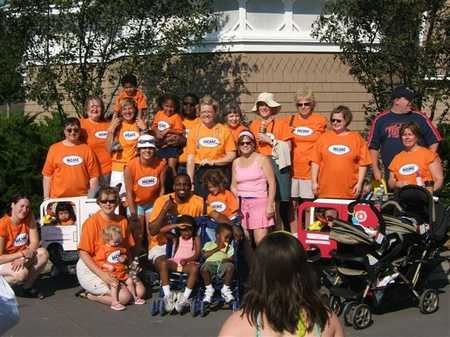 The Minneapolis Injury Free Coalition was established in 2002 and is based in the Hennepin County Medical Center (HCMC). HCMC is a public teaching hospital and a Level 1 Trauma Center located in downtown Minneapolis. The hospital is also a member of the National Association of Children's Hospitals and Related Institutions. Doctors from Hennepin Faculty Associates and staff from the Minneapolis Medical Research Foundation (research arm of the HCMC system) work together to support Minneapolis Injury Free activities.
The Minneapolis Coalition hopes to reduce injuries to children in the city through data driven community based interventions and policies. Specifically, our goals are to reduce childhood injuries caused by falls, motor vehicle crashes, and unsafe home environments. The Coalition will work with neighborhood associations and communities of color to customize interventions for the diverse populations that live in the city and are served by HCMC. In addition, the coalition will strive to empower the community to continue the education efforts by providing train-the-trainer education on a variety of prevention efforts. Throughout the project on-going surveillance of injuries and deaths in Minneapolis will be monitored through hospital and state public health data sources.
Coalition Members:
Minneapolis Directors
Contact Info
Julie Philbrook
IFCK of Minneapolis
Hennepin Healthcare
Trauma Services (O-9)
701 Park Ave South
Minneapolis, MN 55415
(612) 873-8500
julie.philbrook@hcmed.org
Events
There are currently no events listed for Minneapolis.