Programs
---
Approximately 29,000 emergency room visits are made to UMass Memorial Children's Medical Center and its affiliate hospitals each year, as well as over 32,000 visits to primary and subspecialty clinics. Utilizing hospital trauma registry data and state epidemiology statistics, the chapter has categorized the various reasons why children are admitted to UMass Memorial Children's Medical Center.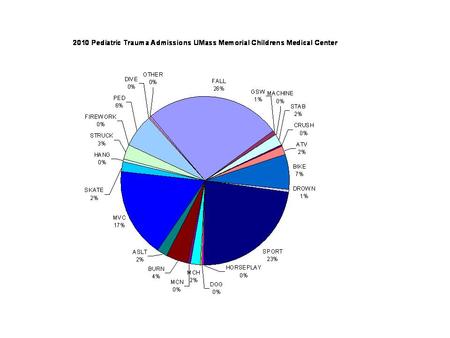 Injury Free Coalition for Kids of Worcester is an interdisciplinary team focusing on intervention programs to decrease the incidence of these traumas. The Worcester group has been part of the Coalition since 2001. Injury Free Coalition for Kids of Worcester is working with community leaders on the following projects: a bi-weekly car seat safety check; a playground safety improvement/renovation project; a gun buyback/violence prevention program called "Goods For Guns"; one of the nation's first injury prevention hands-on training courses for medical students; distributing "Safe at Home" home childproofing kits; teen driver education courses; and Mobile Safety Street, an interactive safety display aimed at educating children in pedestrian, home, and school bus safety.
Injury Free Worcester Coalition members include:
The Office of the District Attorney/Middle District
WIC
Worcester Public Schools
Head Start
Emergency Nurses Association
Massachusetts State Police
Worcester Police Department
Child Passenger Safety Coalition of Worcester County
The Worcester site also collaborates with various UMass Memorial Children's Medical Center departments such as: Trauma Injury Prevention Programs; Pre-hospital Services; Social Services; Trauma Services; Women and Children Family Education; Emergency Medicine; Community Relations; Domestic Violence; Life Flight and EMS; Child Life; Pediatrics; Pediatric Emergency Medicine and Pediatric Surgery/Trauma. It is our goal to recruit additional community agencies and representatives from the Greater Worcester Area to establish a larger, stronger coalition targeting childhood injury prevention. The impact of the Injury Free Coalition for Kids of Worcester's interventions is measured through annual trauma admission statistics. The primary goals are:
Educate Greater Worcester area families about the causes and ways to avoid pediatric accidents and trauma
Create and strengthen partnerships with the local community
Address the families' and communities' concerns
Develop creative and effective solutions to combating childhood injury
Further scientific knowledge about the causes and prevention of pediatric injury in Greater Worcester
Watch this video as Dr. Hirsh encourages the Worcester District Medical Society to support the change to the enforcement of seatbelt laws from secondary to primary.
Worcester, MA Directors
Contact Info
Co-Director: Michael P. Hirsh M.D., F.A.A.P., F.A.C.S. (michael.hirsh@umassmemorial.org)

Co-Director: Mariann Manno M.D.,F.A.A.P (mariann.manno@umassmemorial.org)

Injury Prevention Coordinator: Asia Simpson (asia.simpson@umassmemorial.org)



Worcester, MA News
Events
There are currently no events listed for Worcester, MA.